New Sailor Moon perfume is about to hit the market on June 26, 2020! Sailor Moon has teamed up with Primaniacs to create a series of 13 character fragrances. This includes all ten senshi, as well as the three Sailor Starlights! That's pretty amazing considering that outer senshi such as Sailor Saturn always gets left out of merchandise releases. Since the new Sailor Moon Eternal movie is releasing this year, it's nice to see a lot more characters being included on products.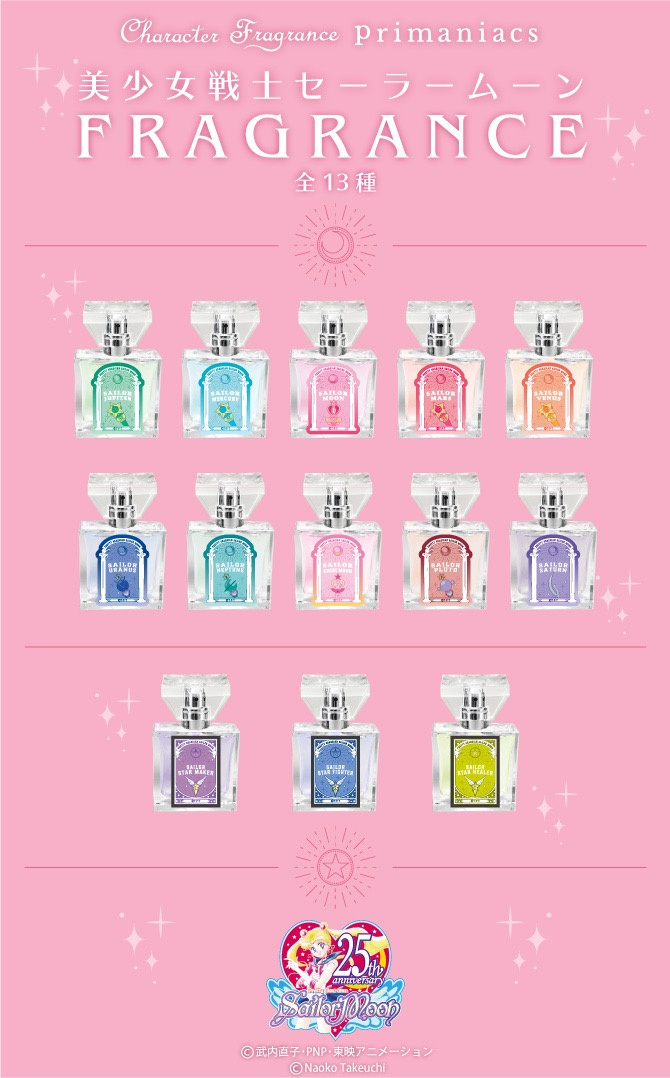 Here are the details on each perfume, including top, middle and base notes.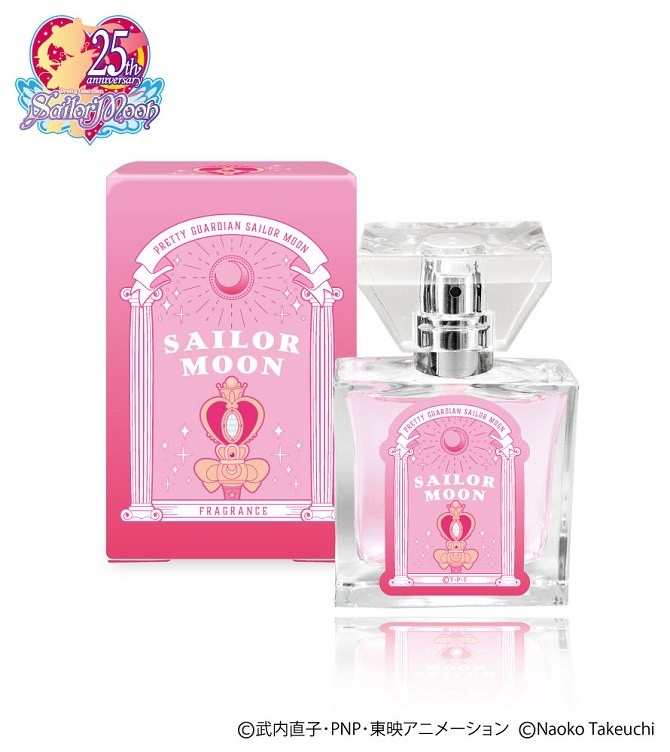 SAILOR MOON
TOP:Apple, Cyclamen, Lily, Lemon
MIDDLE:Muguet, Lilac, Rose
BASE:Peach, Raspberry, Sandalwood, Ozone Floral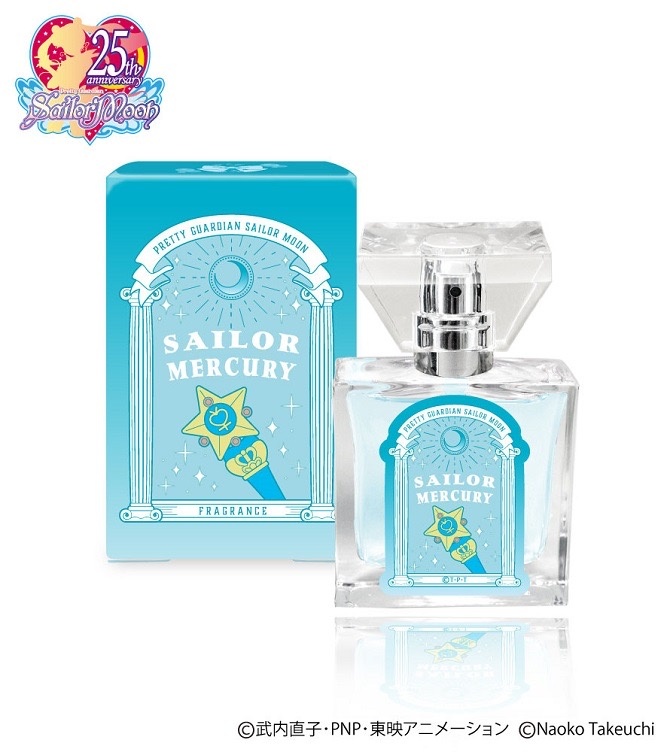 SAILOR MERCURY
TOP:Lemon, Cassis, Nutmeg
MIDDLE:Water Lily, Jasmine, Wisteria
BASE:Cedarwood, Musk, Amber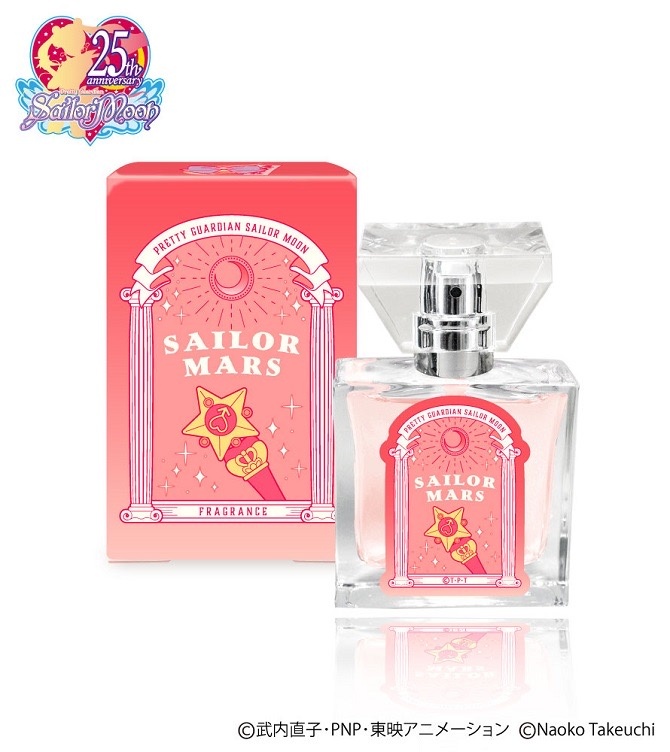 SAILOR MARS
TOP:Galbanum, Gardenia, Casablanca, Centifolia Rose
MIDDLE:Sakura, Shakuyaku, Nadeshiko, Chamomile
BASE:Amber, Cedarwood, Sandalwood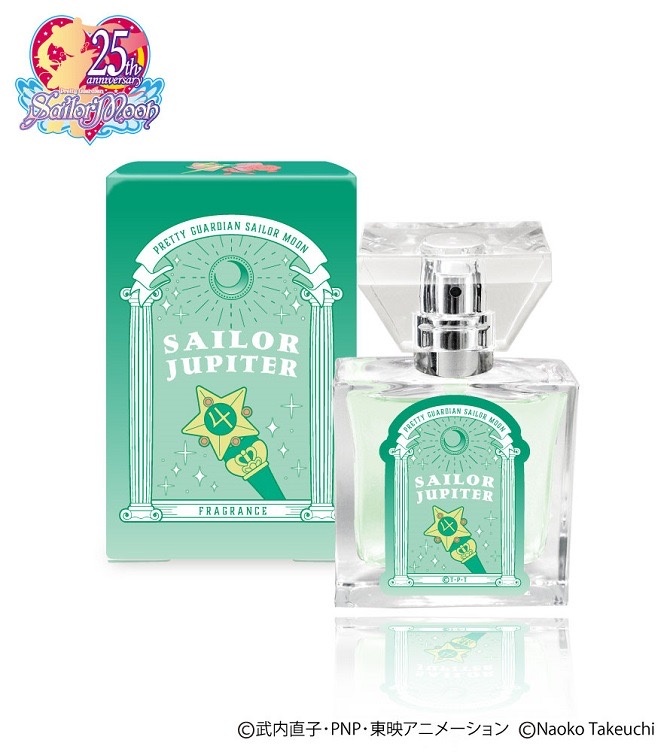 SAILOR JUPITER
TOP:Cassis, Green Apple, Black Pepper
MIDDLE:Nutmeg, Orange Peel, Rose, Rosemary, Pound Cake, Geranium
BASE:Amber, Dry Fruit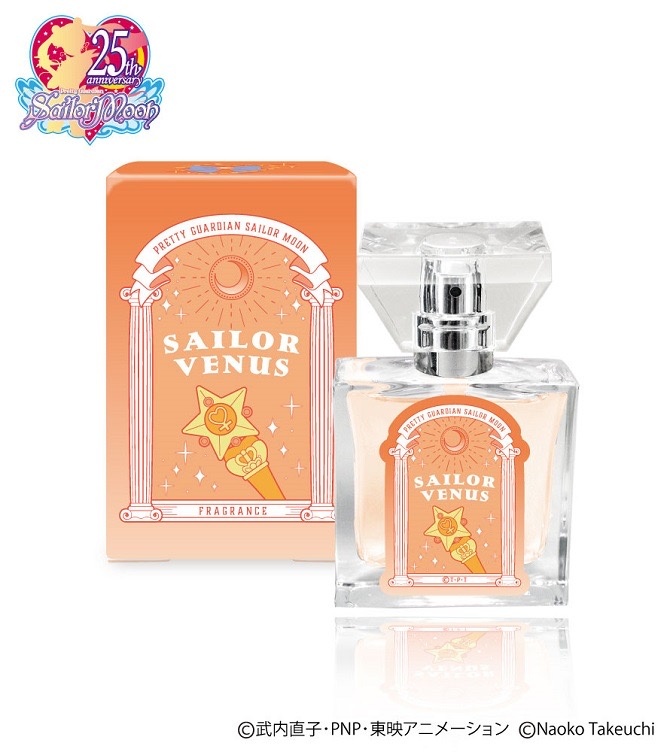 SAILOR VENUS
TOP:Lemon, Bergamot
MIDDLE:Jasmine, Rose, Muguet, Neroli
BASE:Musk, Peach, Raspberry, Amber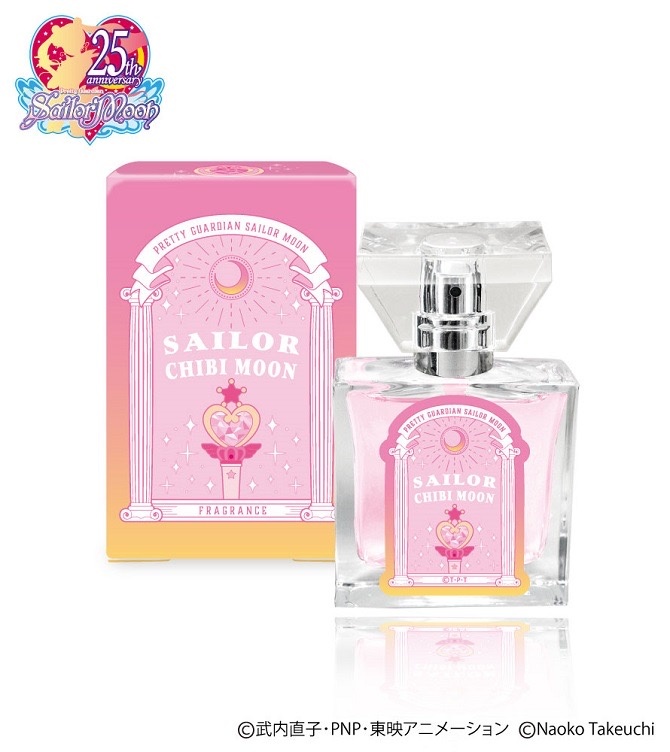 SAILOR CHIBI MOON
TOP:Peach, Pear, Muscat, Soft Cream
MIDDLE:Pineapple, Cotton Candy, Plum Blossom
BASE:Vanilla, Amber, Musk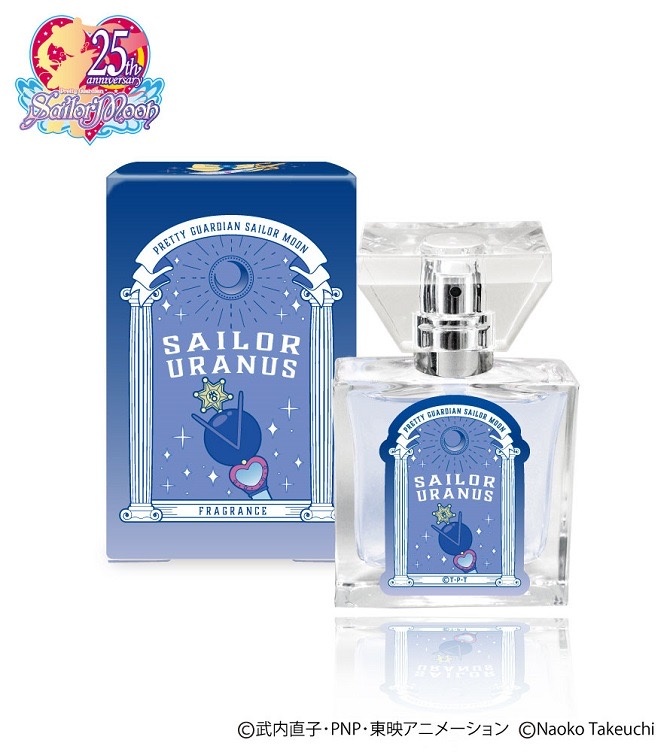 SAILOR URANUS
TOP:Lemon, Bergamot, Basil, Eucalyptus, Ozone Note
MIDDLE:Jasmine, Lavender, Lemon Myrtle
BASE:Musk, Amber, Sandalwood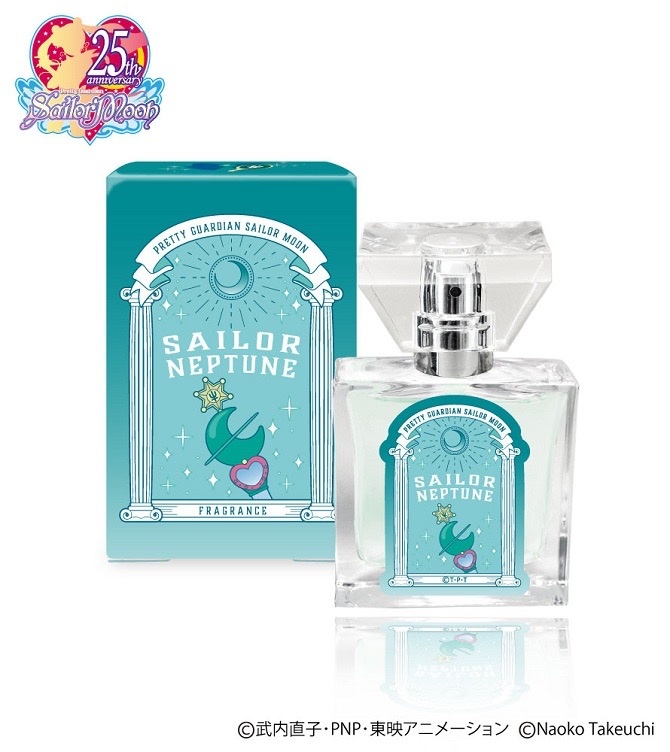 SAILOR NEPTUNE
TOP:Lime, Peppermint, Dry Apple
MIDDLE:Lavender, Geranium, Muguet, Neroli, Shakuyaku, Marine
BASE:Patchouly, Amber, Musk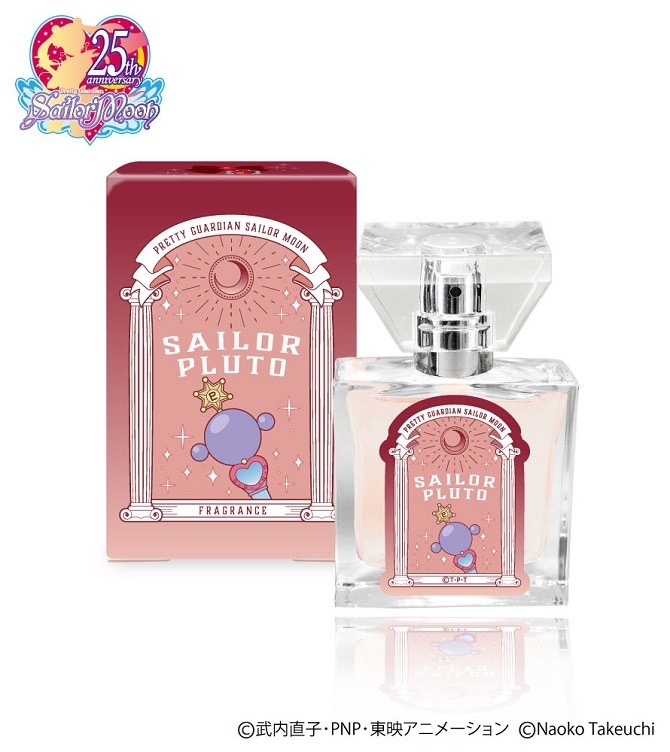 SAILOR PLUTO
TOP:Bergamot, Pear, Chamomile
MIDDLE:Neroli, Muguet, Rose, Jasmine, Sandalwood
BASE:Musk, Cedarwood, Amber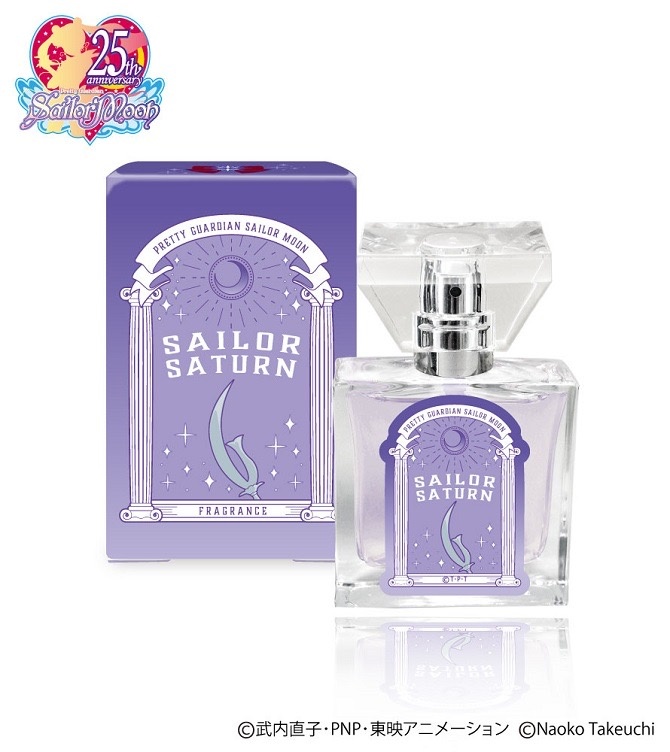 SAILOR SATURN
TOP:Cassis, Sakura, Mandarin
MIDDLE:Shakuyaku, Lily, Iris, Rose, Jasmine
BASE:Amber, Sandalwood, Musk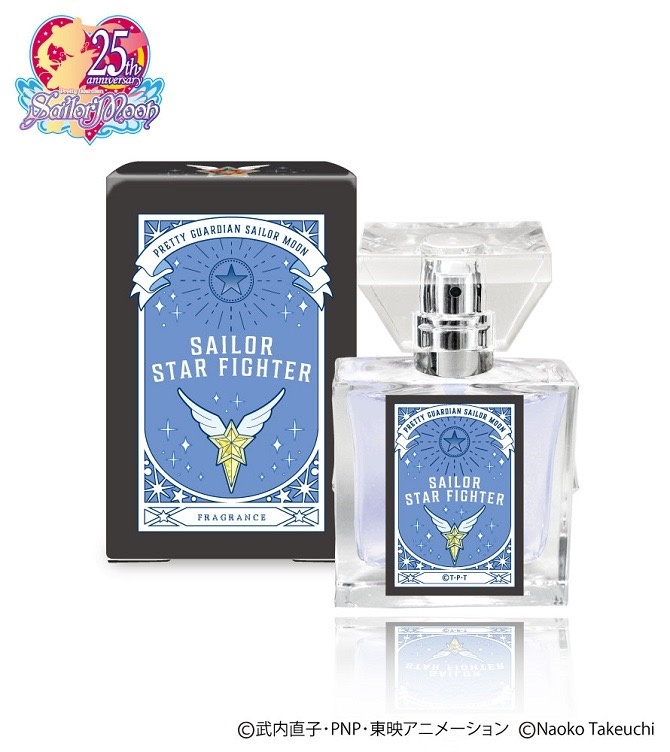 SAILOR STAR FIGHTER
TOP:Lemon, Fresh Lime, Hyacinth
MIDDLE:Gardenia, Violet, Heliotrope
BASE:White Musk, Sandalwood, Strawberry, Amber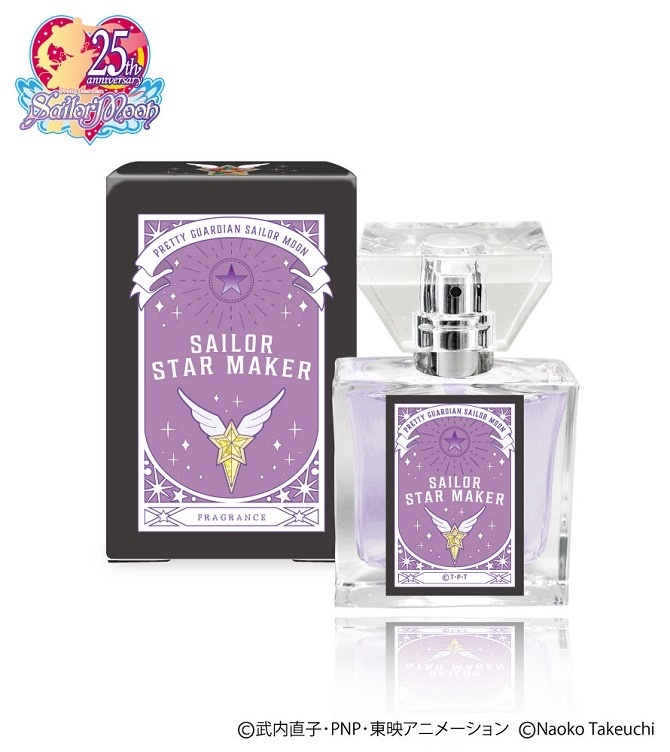 SAILOR STAR MAKER
TOP:Nutmeg, Lavender, Thyme
MIDDLE:Muguet, Clover, Iris, Heliotrope
BASE:Musk, Vanilla, Sandalwood, Tonka Beans, Cyclamen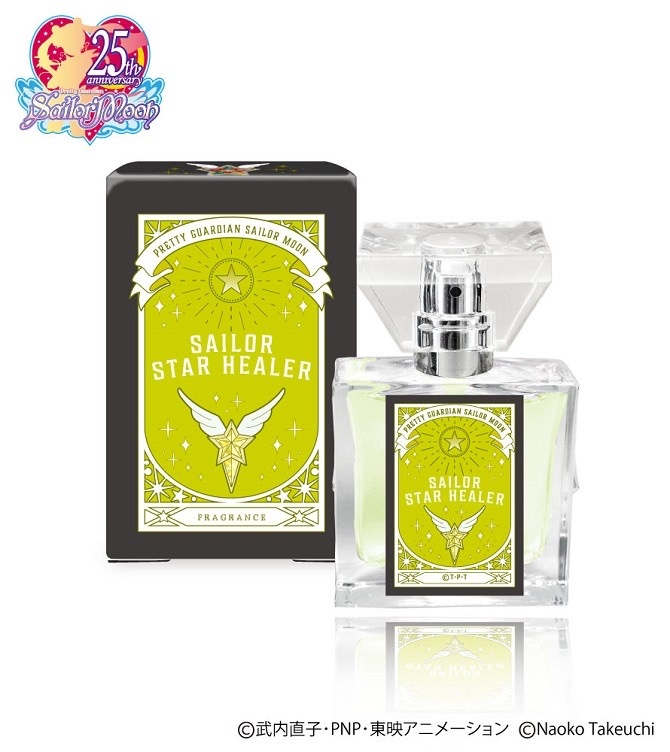 SAILOR STAR HEALER
TOP:Lemon, Mandarin, Pear
MIDDLE:Mint, Juniperberry, Muguet, White Rose
BASE:Cedarwood, Musk, Mimosa, Watery Note
These are available for preorder on the Primaniacs official website. Please note that perfumes cannot be shipped overseas, so these can't be ordered if you live outside of Japan.