The Sailor Moon x Savons Gemme Gem Soap & Bath Salt Set is one of the 2019 Fan Club exlusive items. Savons Gemme is a brand that originated in Grasse, France. They specialize in gem soaps, and everything is handmade. This special collaboration set was available for preorder in Japan and overseas. The Gem Soaps represent the five inner senshi, while the bath salts are inspired by Tuxedo Mask and the shitennou.
Gem Soaps:
Sailor Moon - Rose Quartz
Sailor Mercury - Lapis Lazuli
Sailor Mars - Garnet
Sailor Jupiter - Green Garnet
Sailor Venus - Albatre Oriental
Bath Salt:
Tuxedo Mask with Four Heavenly Kings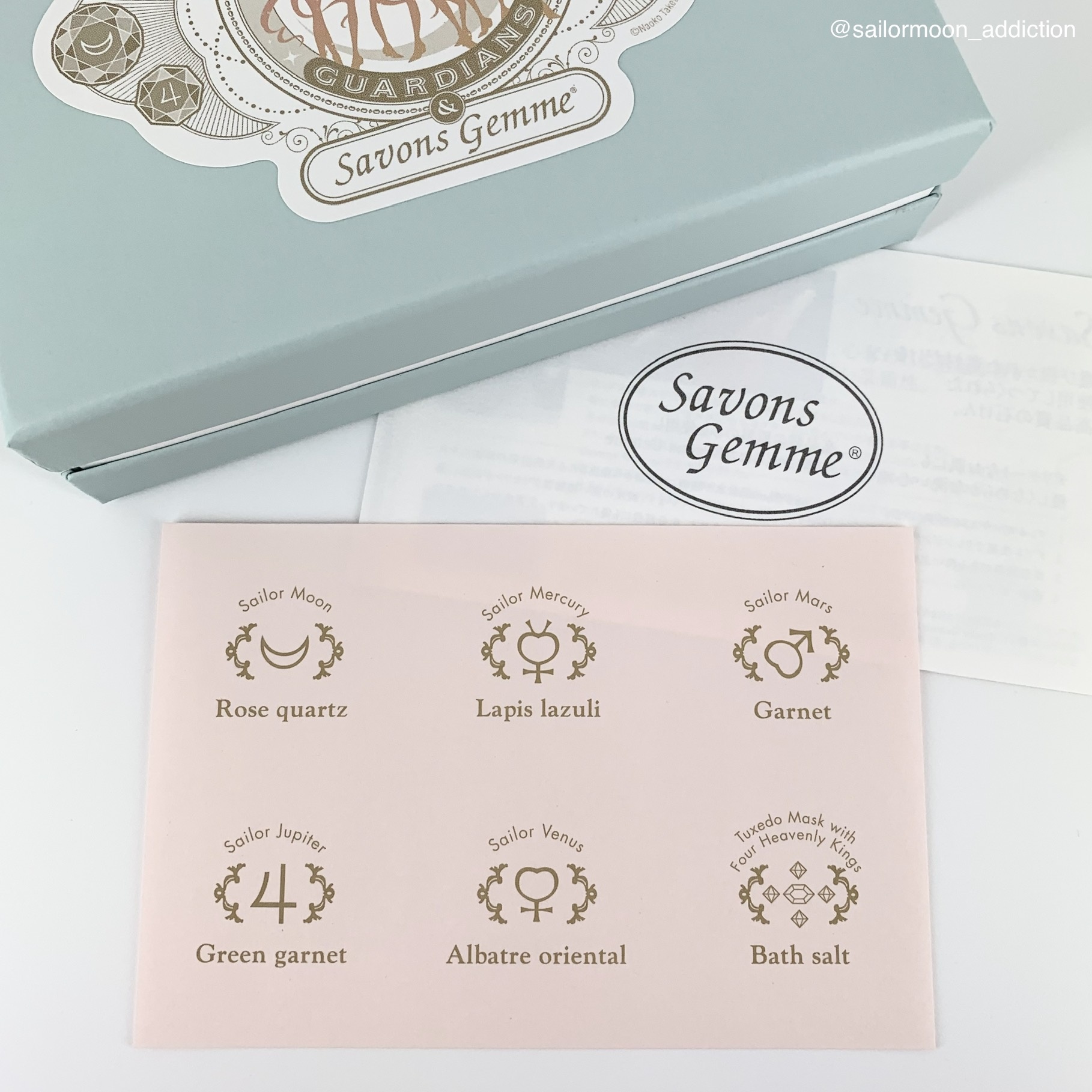 First off, these smell amazing. I haven't used any of the soaps, and probably never will, but that doesn't stop me from admiring them and taking a sniff. The best way to use these soaps are to place one in a soap mesh bag, which is also known as a soap saver. Since these soaps are relatively pricey, you'll want to make the most use out of them.
The bath salts came in a pretty and delicate clear container. The salts itself looks like little rocks with various shades of colors. The salts are bigger than the tiny bath salts I'm used to seeing. However, I prefer it this way since I can see the rocks and colors much better. Plus, I'm probably not going to be using them anyway.
My verdict: The price for this set was 4,500 yen + tax and shipping. Before I realized these were soaps, I actually thought it was a set of gem stones based on the Inner Senshi, Tuxedo Mask, and Shitennou. I finally read the description and found out they were soaps instead. I was a little less enthusiastic, but I personally love handmade soaps, so I ordered them anyway. They do look very much like gem stones in person, and I really love the scents. It is relatively pricey, especially since the individual soaps are not very big. Honestly, I would say this is more a collector's item than for practical use. What do you think?