Sailor Moon x Q-Pot release is something I look forward to every year on June 30th. 2019 marks the 5th year of this amazing collaboration. One of my favorite items Q-Pot created for Sailor Moon is the Starry Night Pocket Watch necklace from the first year of collaboration. In fact, Q-Pot re-released the necklace this year, along with some of the past brooch macaron necklace and bag charms. Some of the items are still available for sale on Q-Pot's Japanese website. However, quite a few pieces were sold out within the first day of release. Without further ado, here's some of the goodies I acquired this year.
Moon Collection Box (2,160 yen with tax): This is the rectangle box shown on the top left corner of the photo above. It has six compartments inside. The box is meant for Sailor Moon's brooch macaron necklaces or bag charms, but you can store anything you want.
Q-Pot is well known for their dessert inspired pendants. This year, I purchased five necklaces from the collaboration.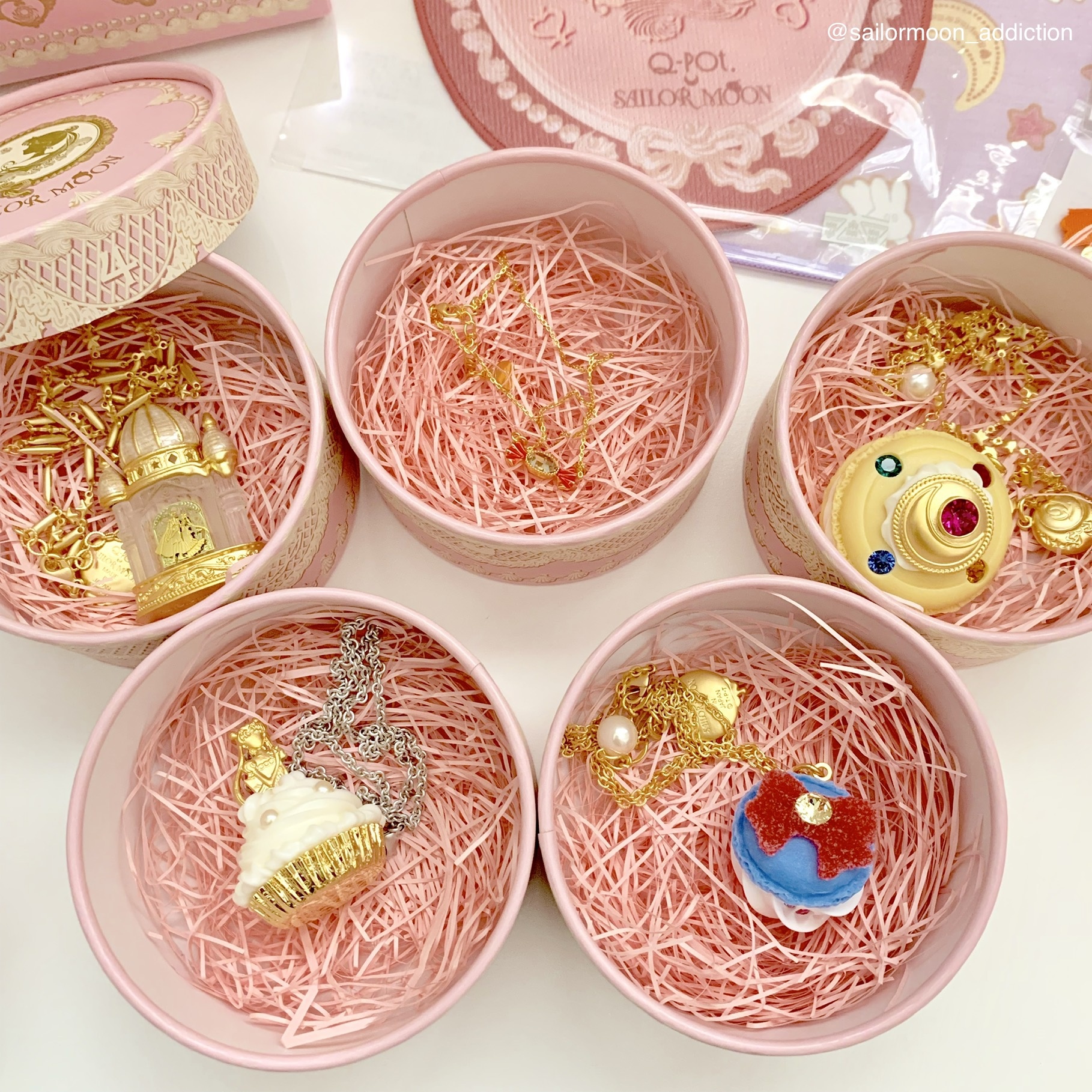 Melty Moon Castle Pendant Necklace (32,400 yen with tax): This is my favorite piece from 2019's collaboration. The image of Princess Serenity and Prince Endymion is the same one Q-Pot used for the Starry Night Pocket Watch necklace, except this year's theme is the Moon Castle. I love the details on the castle: the intricate patterns, frosty glass, and glossy rooftops. It makes a perfect background for the couple.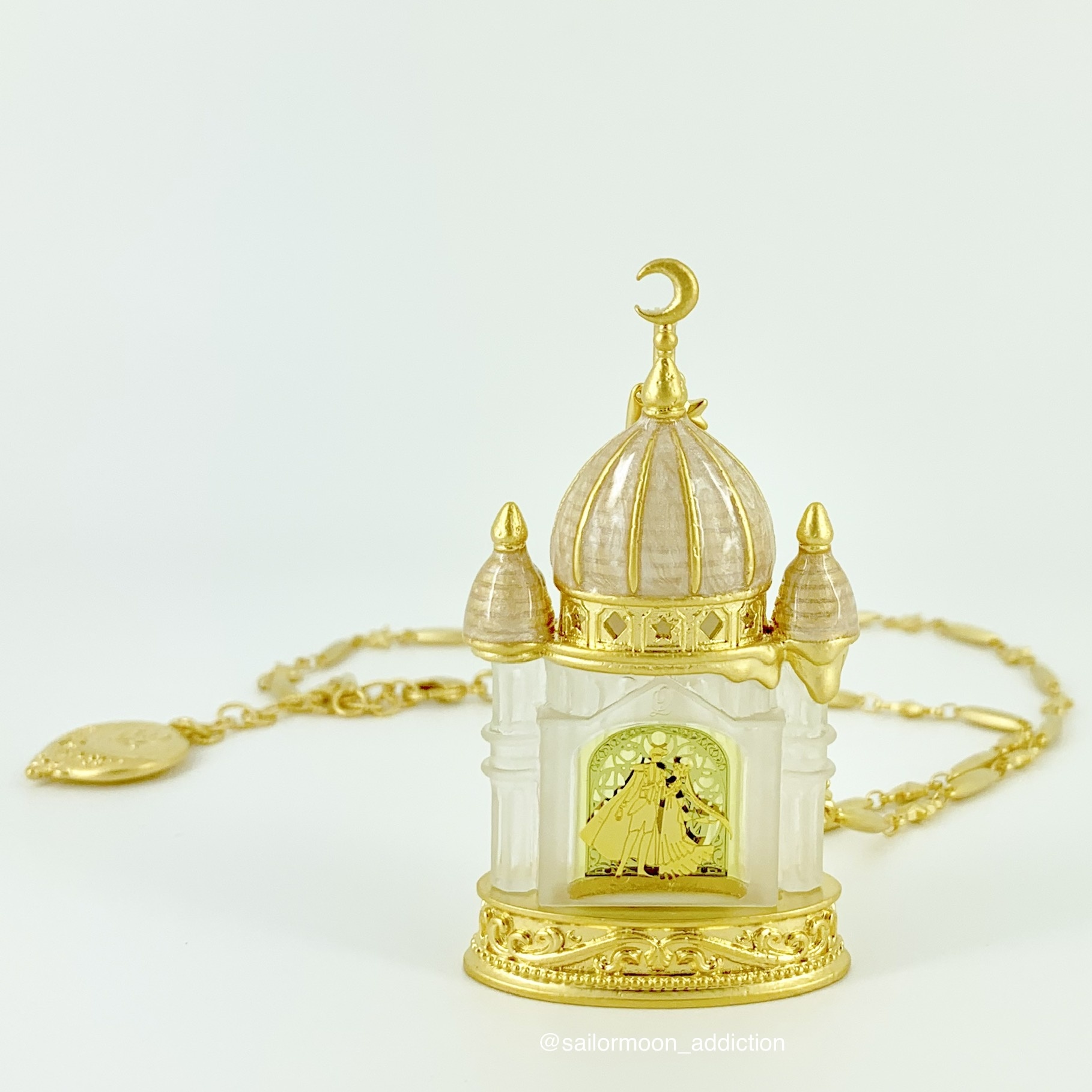 Sailor Ribbon Macaron Necklace (10,260 yen with tax): There are five versions of this macaron pendant (Moon, Mercury, Mars, Jupiter, and Venus). Since Sailor Moon is my favorite, I chose her color theme. The gems are Swarovski Crystals. There is a yellow one on the bow, and three pink ones on the whipped cream.
Princess Serenity Cupcake Necklace (10,800 yen with tax): I love collecting Princess Serenity goods, so I decided to get this necklace. The details on Princess Serenity is amazing, you can even see the tiny lines of her collarbones. The only thing that bothers me a little is the silver chain, which doesn't feel like it matches the gold/white colors of the pendant well. I'm not sure if Q-Pot thinks there's too much gold, so they used a silver chain? Either way, it looks out of place to me. Other than that, I think the Princess Serenity Cupcake pendant looks very pretty.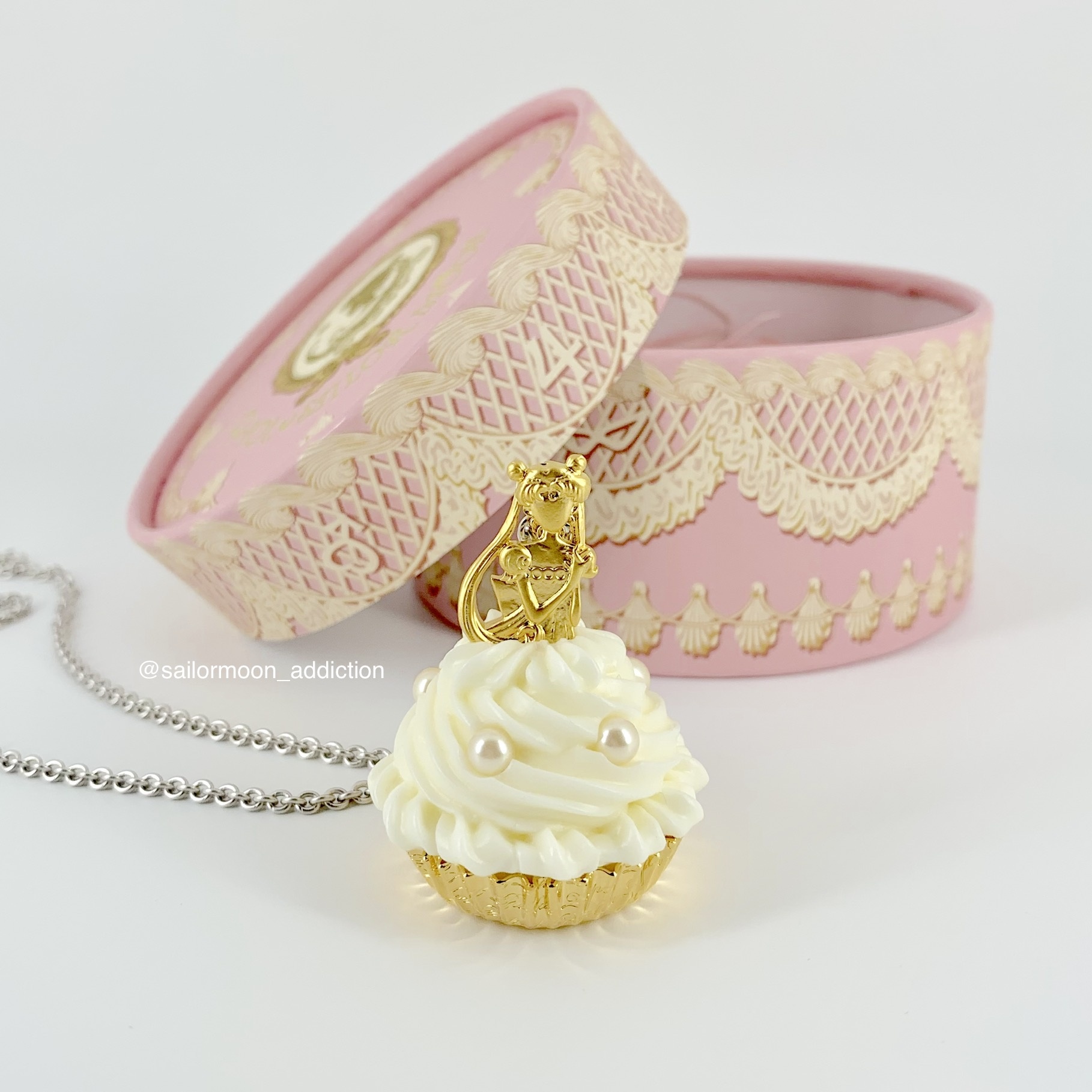 Sailor Petit Jewel Candy Necklace (12,960 yen with tax): This candy necklace looks similar to the Sailor Candy ring Q-Pot produced few years ago. I really like this necklace because it's very delicate and dainty in person. While I do enjoy all of the Q-Pot designs such as the macaron pendants, they are a little too big to wear. I buy them simply to collect, but I would actually wear this Sailor Petit Jewel Candy necklace. Similar to the Sailor Ribbon Macaron Necklace, this necklace is also available in five different colors. I chose the Sailor Moon version.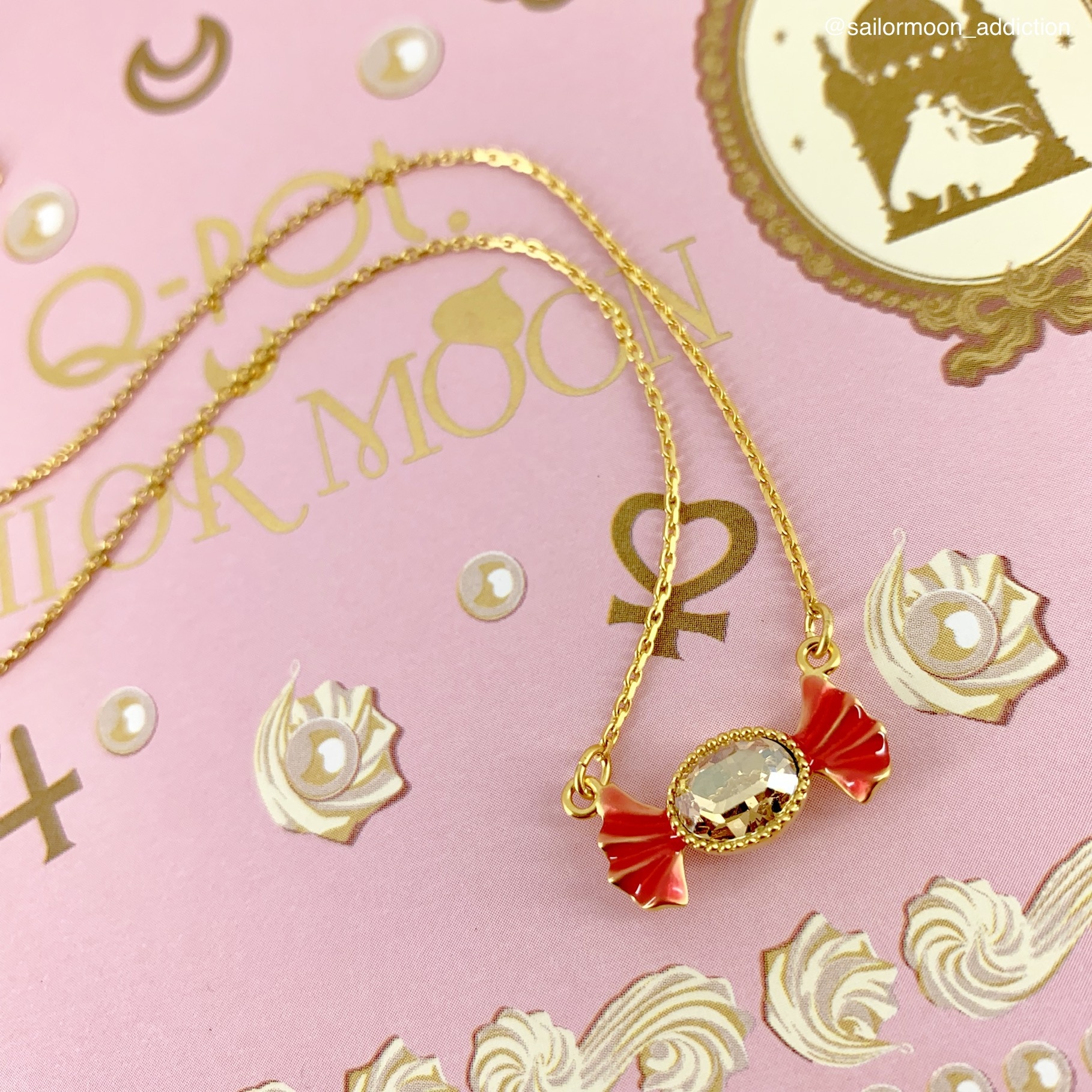 Sailor Moon Transformation Brooch Macaron Necklace (16,200 yen with tax): I was so excited for this pendant, because now I have all six of Sailor Moon's brooch maracron necklaces (including the Sailor Moon Fan Club x Q-Pot exclusive transformation brooch maracron, manga version). I'll post a separate review for that one.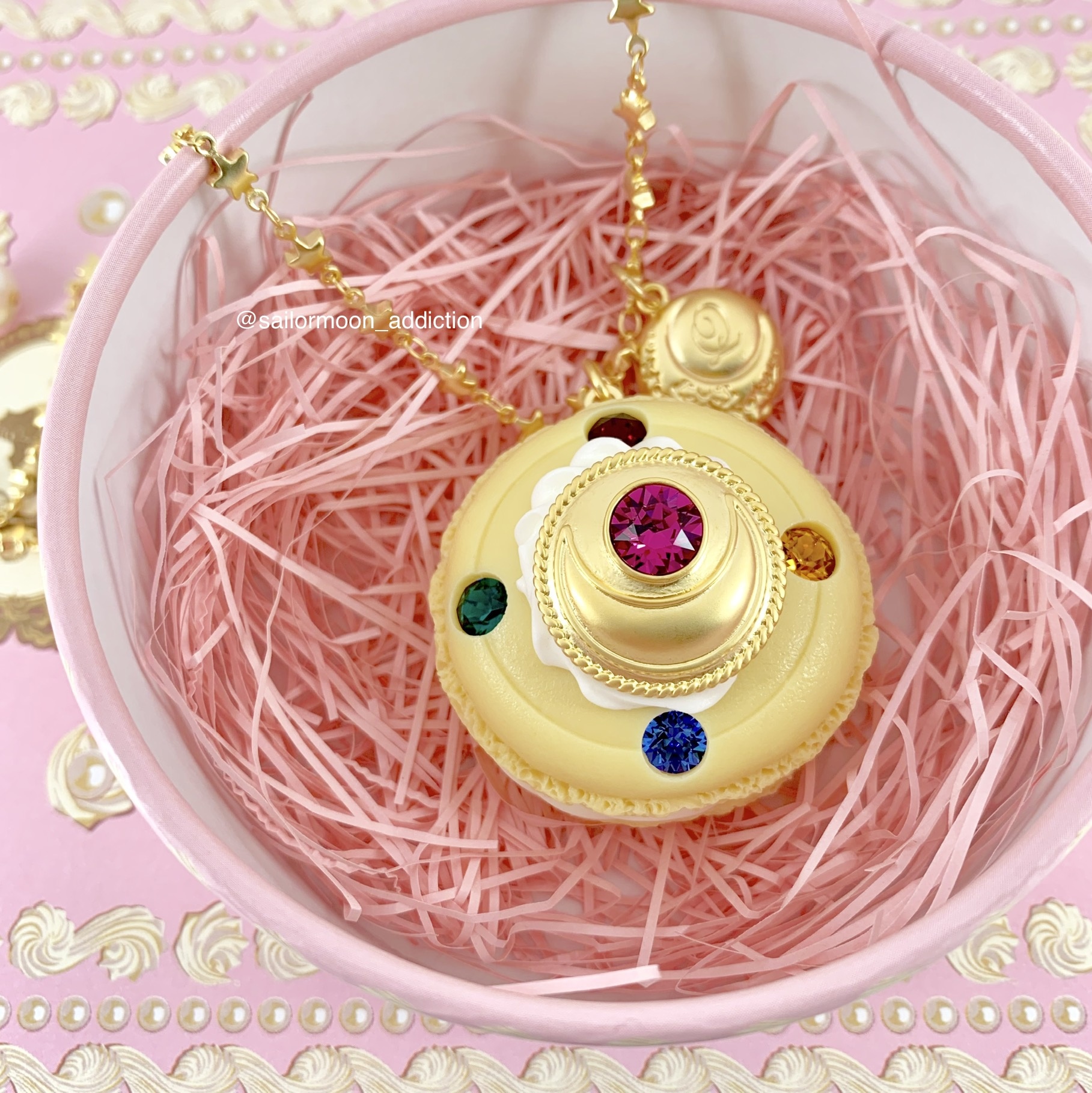 Sailor Elegant Towel (1,080 yen with tax): Q-Pot has been releasing microfiber towels almost every year. This year was no exception. It is a print of Sailor Moon that's also on the special jewelry box.
Novelty Goods: I've been asked several times what "novelty goods" are supposed to be. They are gift with purchase items based on the amount you spend. The two types of gifts for this year are: Charm Misanga (good luck charm) and Moon Castle Accessory Case. The charm comes in five different colors, and one is chosen at random to be included in the order. The Moon Castle Accessory Case is exclusive to the online shop. If you go to Q-Pot cafe to purchase the goods, you will receive a Sailor Moon Accessory Case if you spend over 40,000 yen (before tax). I spent quite a bit, so Q-Pot sent me two of everything.
Sailor Moon Cake Umbrella (5,400 yen with tax): This is a folding umbrella that fits perfectly in a purse. It also comes with a pouch for storage. Parts of the design has some glittler on it, so it's a bit sparkly under the right lighting condition.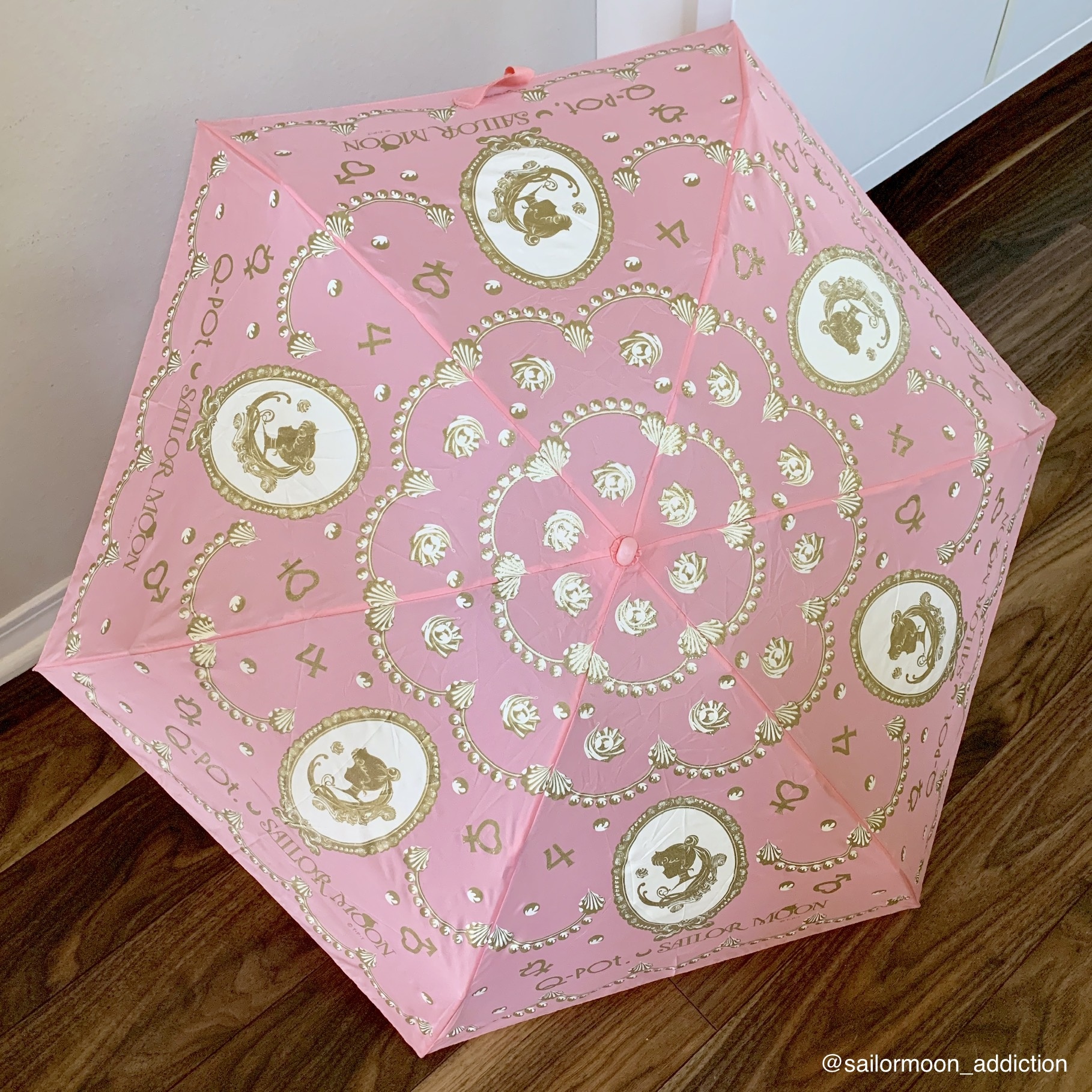 Sailor Moon Cake Mug and Luna & Artemis Cake Mug (3,024 yen with tax for each): I've collected almost all of the Sailor Moon x Q-Pot mugs over the years, so I bought both designs this year as well. The mug itself looks exactly the same, except the artwork on them are all different. This year's two mugs are based on Sailor Moon and Luna & Artemis.
Sailor Melty Parfait Glass (2,484 yen with tax): This dessert glass cup is available at the Q-Pot cafe by ordering from the menu. However, it was also available in their online shop. I was surprised because most of the cafe related goods are usually in-store only.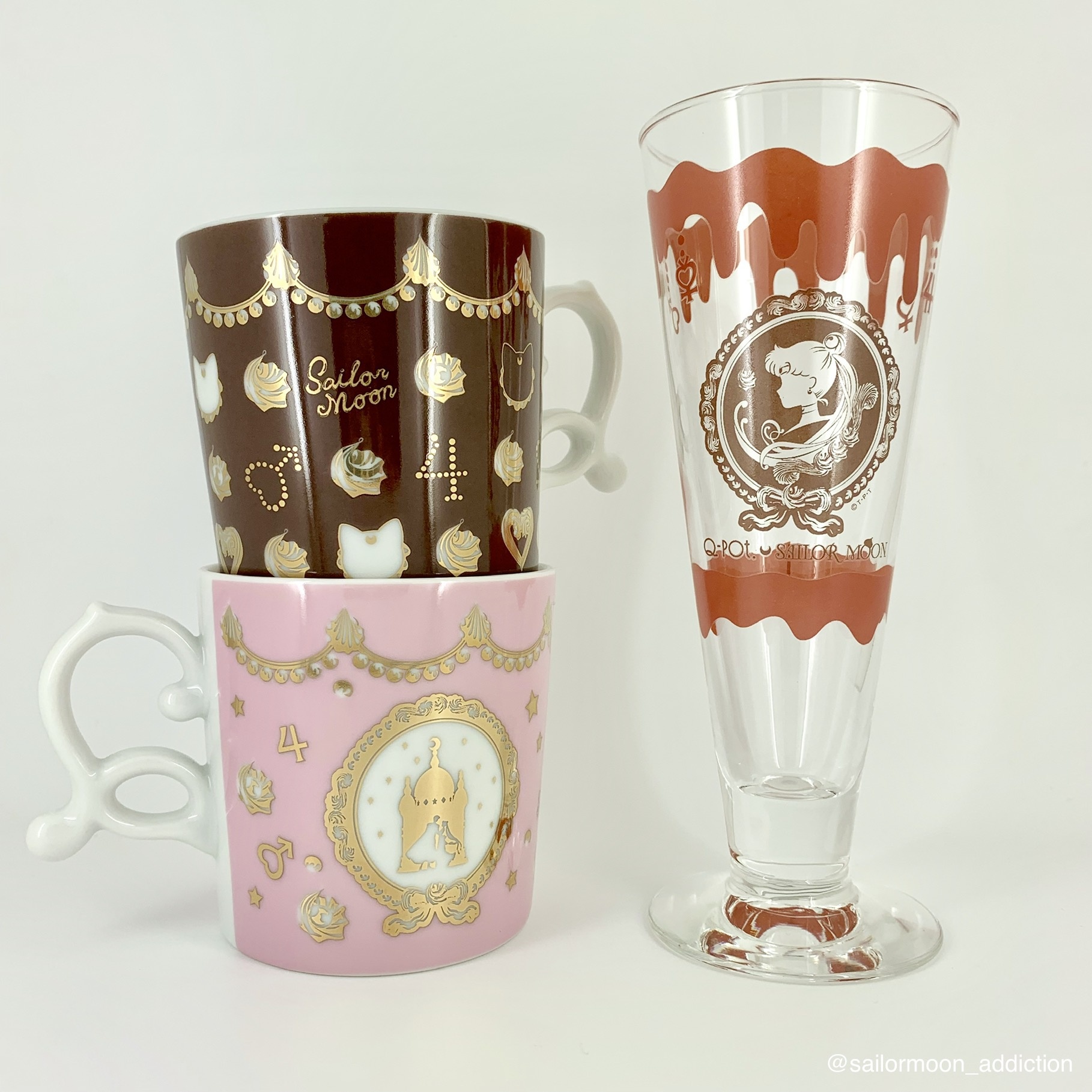 My verdict: I love Sailor Moon x Q-Pot accessories and goods. Their designs are so unique and looks yummy enough to eat! My favorite item from this year is the Melty Moon Castle necklace. Everything else is also very pretty, and make great collectibles. I'm super excited to finally complete the Sailor Moon x Q-Pot brooch maracron necklaces. I will review them later.
While Q-Pot has an international online shop, Sailor Moon related merchandise cannot be shipped directly overseas. I sent an email to them last year, and was told they can only ship domestically within Japan due to licensing issues. However, they do not mind if you use online proxy service to buy from them. Please click here for more information.